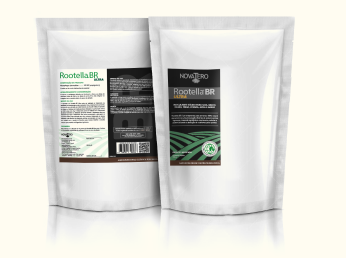 Rootella® BR ULTRA
Rootella BR ULTRA mycorrhizal wettable powder effectively inoculates plants with highly potent endomycorrhizal fungi. 
Concentration 
Rootella BR ULTRA delivers extremely high concentrations of endomycorrhizal propagules: 
At least 167,000 viable propagules of Rhizophagus intraradices per gram 
Application 
Rootella BR ULTRA is intended for application to row crops (e.g. corn, soybean, wheat) 
Mix with water and add to agitated mixing tank during seed treatment process. 
Not to be mixed with incompatible substances (see compatibility tool for more information) . 
Flush system before and after product use. 
Each 250 gram pouch treats approximately 17 hectares. 
Application Rate 
Row crops: 
-Seed treatment (in liquid): 15 g/ha 
-In-furrow (in drip or spray): 20 g/ha  
Let your ground work
We look forward to connecting with you!
Get in touch